Addison Lee taxis in bus lanes: TfL takes legal action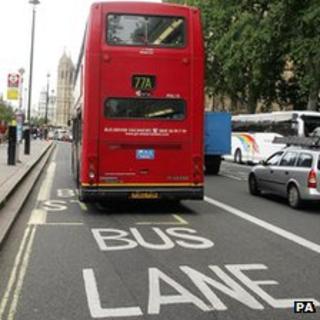 Transport for London is taking High Court action after a minicab firm told its drivers to begin illegally using bus lanes in the capital.
On Monday Addison Lee sent a letter to its drivers urging them to ignore the rules.
Chairman John Griffin said allowing only licensed black taxis to use the lanes was "unfair discrimination".
On Tuesday Transport for London said it is to seek a High Court injunction ordering the letter to be withdrawn.
Leon Daniels, TfL's managing director of surface transport, said: "We have applied to the High Court for an interim injunction that will require Addison Lee to withdraw the letter it sent to its drivers on 14 April advising them to drive in bus lanes and telling them they were indemnified against any fine or liability incurred.
"The case will be heard on Monday 23 April."
The firm has not made any comment over the development, but a spokesman said its position had not changed.
Speaking on Monday, Mr Griffin said: "The current bus lane legislation is anti-competitive and unfairly discriminates against the millions of passengers that use Addison Lee.
"Minicabs perform the same function as black taxis and are licensed by the same authority, so there is no reason that they should be penalised due to outdated legislation.
"Black taxis are not a public service, they are a business just like minicabs."