Brian Paddick tells hustings he was 'bullied for being gay'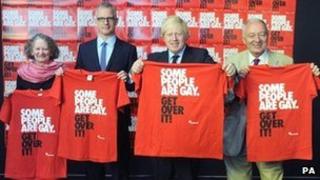 The Liberal Democrat candidate for London Mayor Brian Paddick has said he was "bullied at school" for being gay.
He was speaking at a hustings organised by gay rights charity Stonewall. More than 500 people were present to hear from the four main mayoral candidates.
Labour candidate Ken Livingstone said London was "gay-friendly" but a lot more needed to be done.
Conservative Mayor Boris Johnson promised to bring out a gay manifesto ahead of the elections.
There are 350,000 voters from the LGBT (lesbian, gay, bisexual and transgender) community.
'Homophobia within police'
Mr Paddick said: "When I was in school I remember being manhandled, about to be thrown into a freezing pool of water fully clothed because I was gay, until a teacher intervened.
"I also remember boys trying to strip me naked and luckily my brother found out and came to rescue me."
Mr Paddick, a former Metropolitan Police officer, said: "There needs to be an absolute culture change in the police. I will put that pressure on to deal with racism and homophobia within the police."
Mr Livingstone said different minorities had been targeted over the years by "right-wing politicians".
He added: "It is the Muslims' turn now.
"No Muslims ever came to me and said 'I want homosexuality banned'."
He promised to bring back Stonewall's Equality assessment for employers and Gay Pride celebrations at City Hall, which the current mayor stopped.
Defending himself, Mr Johnson said: "We continue to support Pride. I have walked every mile... I walked it year after year after year.
"I want to be a mayor who brings London together."
He said he would introduce a gay manifesto ahead of the voting on 3 May.
He also promised to bring back Stonewall's employer assessment if re-elected when he was informed that the assessment was a free service.
Earlier he told the audience that City Hall was withdrawn from the assessment because it cost £2,000 a year.
Green candidate Jenny Jones said: "It is interesting with the budget that we have got at City Hall - it is clear that quite often there are little ego projects... I would say that the new bus for London is one of those projects."
Stonewall chief executive Ben Summerskill said: "It's really impressive that all of the main mayoral candidates wanted to engage lesbian, gay and bisexual Londoners - something that would have been unthinkable 15 or 20 years ago."