Banned gay bus ad group looks at legal action against TfL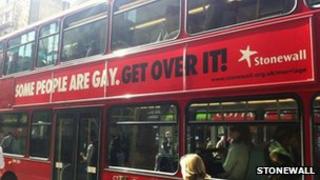 A Christian group which had its advertisement pulled from London buses after it was described as anti-gay has said it is considering legal action.
Anglican Mainstream has instructed a law firm to look at whether Transport for London (TfL) acted illegally when it scrapped the adverts.
It said it wanted to know what happened to its contract with TfL for the ads, which implied people could be "ex-gay".
TfL said the advert was not consistent with its commitment to a tolerant city.
The adverts were paid for by the Core Issues Trust which is working in partnership with Anglican Mainstream on a campaign to support "men and women with homosexual issues who voluntarily seek change in sexual preference and expression".
The banned posters read: "Not gay! Post-gay, ex-gay and proud. Get over it!"
They were in response to Stonewall promoting equal marriage by having adverts on 1,000 London buses which featured the slogan: "Some people are gay. Get over it!"
'Not running'
The adverts were reportedly booked for two weeks by Core Issues to display on vehicles running on five routes in central London, including buses to top tourist destinations such as St Paul's Cathedral, Oxford Street, Trafalgar Square and Piccadilly Circus.
Tom Ellis from legal firm Aughton Ainsworth said he was going to examine whether the ban was a breach of contract and the group's right to freedom of expression.
A TfL spokesperson said: "We do not believe that these specific ads are consistent with TfL's commitment to a tolerant and inclusive London.
"The adverts are not currently running on any London Buses and they will not do so."
The Advertising Standards Authority (ASA) said it "is not involved in the pre-clearance or vetting of any advertisement, including this campaign".
It said it could only assess whether or not adverts adhered to advertising codes once they appeared and, since this one would not, it would not be taking any action.
The Committee of Advertising Practice (CAP) can offer "non-binding advice" but its service is confidential and it therefore would not confirm if it had offered advice in this case.