London mayor election: UKIP urges Johnson second choice vote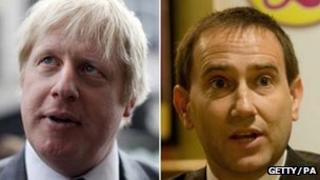 The UK Independence Party (UKIP) London mayoral hopeful has asked supporters to vote for his Conservative rival as their second choice.
UKIP leader Nigel Farage said while the party had "deep reservations" about some of Boris Johnson's views, it recommended Londoners give him their second preference vote.
UKIP had previously backed independent candidate, Siobhan Benita.
The party has accused her of "New Labour" leanings which she denies.
Mr Farage said: "The so-called Independent candidate whom UKIP had previously backed is nothing of a sort but merely someone raising her profile in order to get the Labour nomination next time round."
Ms Benita's spokeswoman said she completely denied the claim.
She said: "She's independent attracting support from all sides of the political spectrum.
"They are obviously running scared of Benita if they are telling people to vote for Boris."
Mr Johnson's camp did not wish to comment.