'Gay cure' group's London bus adverts banned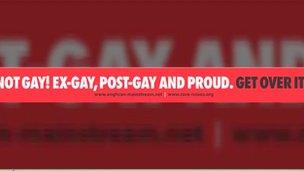 An advertising campaign backed by a Christian group which has been described as anti-gay has been pulled from London buses.
The ads were paid for by the Core Issues Trust, which has been accused of promoting the idea of therapy to change sexual orientation.
Transport for London (TfL) confirmed the adverts had been been scrapped after complaints.
Core Issues Trust described the move as censorship.
TfL said the adverts did not reflect a "tolerant and inclusive" London.
A spokeswoman said: "The adverts are not currently running on any London buses and they will not do so."
From 1 April, 1,000 London buses have been carrying adverts from Stonewall promoting equal marriage with the slogan "Some people are gay. Get over it!"
Its spokeman Andy Wasley said: "It is fantastic that no adverts will be promoting 'voodoo, gay-cure therapy' in London."
The banned posters, backed by Anglican Mainstream, read: "Not gay! Post-gay, ex-gay and proud. Get over it!"
The adverts were reportedly booked for two weeks by Core Issues to display on vehicles running on five routes in central London, including top tourist destinations such as St Paul's Cathedral, Oxford Street, Trafalgar Square and Piccadilly Circus.
Boris Johnson, the Mayor of London and the Conservative candidate for mayor in next month's elections, said the suggestion that being gay was an illness was "clearly offensive" and added that he was "not prepared to have that suggestion driven around London on our buses".
The Labour candidate for mayor Ken Livingstone said: "London is going backwards under a Tory leadership that should have made these advertisements impossible.
"The adverts are insulting to LGBT Londoners and damaging for everyone who believes London is the greatest city in the world because of its tolerance."
On its website, Core Issue describes itself as a "non-profit Christian initiative seeking to support men and women with homosexual issues who voluntarily seek change in sexual preference and expression. It respects the rights of individuals who identify as gay who do not seek change."
Core Issues co-director Mike Davidson said: "We went through the correct channels and we were encouraged by the bus company to go through their procedures.
"Our concern is that the debate has been shut down."
He added: "I think it is very important to raise the fact there are people in this country who want to live beyond gay, they have experienced gayness, and have set themselves other goals."
Related Internet Links
The BBC is not responsible for the content of external sites.