London mayor election: UKIP 'offers London fresh ideas'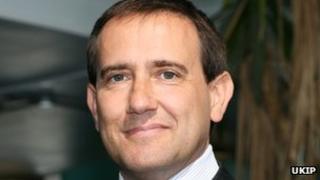 London's UK Independence Party (UKIP) mayoral candidate has unveiled his manifesto, saying he offers "a fresh choice, with fresh ideas".
Lawrence Webb said: "Everyone is fed up with the same tired old faces. I think we need someone new."
Londoners are due to go to the polls on Thursday, 3 May.
Labour's Ken Livingstone has pledged to cut Tube fares by 7%, while Conservative Boris Johnson plans to cut Tube delays by 30% by 2015.
Liberal Democrat Brian Paddick has pledged to create a one-hour bus ticket.
Mr Webb's manifesto includes the following key promises:
Stripping boroughs of the money they make from parking by bringing the charges under City Hall control
Scrapping the congestion charge camera
Offering 20 minutes' free parking across London
Creating more jobs for London "by saying no to open-door immigration".
A salary freeze for all departmental heads in City Hall.
Mr Webb said: "The motorist is the single largest commuter group. But the motorist is being fleeced by greedy councils - and simply being used as a cash cow.
"By taking it under one roof there would be immediate economies-of-scale savings."
A spokesman for Mr Livingstone responded to the manifesto launch, saying: "Ken has an effective and serious plan which will ease the squeeze on the majority and put money back into the London economy."
Mr Johnson has said: "Through working hard to cut waste in the Greater London Authority, freeing up £3.5bn for services and securing a better deal for London from Number 10, we will directly create 200,000 jobs for Londoners."