London mayor election: Ken Livingstone in manifesto launch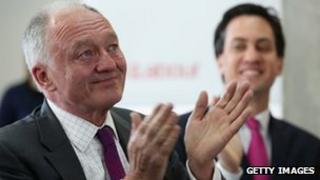 Labour's London mayoral candidate Ken Livingstone has launched his manifesto with an online calculator which claims to show how people will be "£1,000 better off" with his polices.
He was joined by Labour leader Ed Miliband to unveil pledges including cutting fares and reducing rents.
A spokesman for Conservative candidate Boris Johnson said the ideas would lead to a rise in council tax.
He added Mr Livingstone was "making promises he cannot keep".
But Mr Livingstone said his online calculator would allow every Londoner to see how they would benefit financially if he became mayor.
The Labour candidate, who shed tears as he viewed his mayoral promotional video, said: "My manifesto today has at its core key pledges that will make Londoners better off by £1,000 or more, through their fares, household energy bills, rents, education maintenance allowance (EMA) and childcare costs.
'Better off'
"The Conservative campaign has nothing to offer by comparison.
"In the central choice on the cost of living, Londoners will be better off with a Labour mayor."
Mr Miliband said: "Boris Johnson has argued strongly for a tax cut for millionaires while saying nothing about George Osborne's budget which took money away from pensioners and families in London.
"It's time for a mayor who will stand up for Londoners rather than backing measures which will make them worse off."
A spokesman for Mr Johnson said: "Ken Livingstone says one thing but does another. He is making promises to Londoners which he knows he can't keep.
"He has made £2.7bn worth of promises at a time when public finances are the tightest they have been for decades.
"There is only one way he can keep his promises - and that is by continuing his record of hiking up council tax and increasing or expanding the congestion charge zone at a time when Londoners are struggling to make ends meet."
A spokesman for Liberal Democrat mayoral candidate Brian Paddick said: "Putting a calculator on his website doesn't mean Ken Livingstone's policies actually add up.
"His headline fare cut has been rubbished by everyone who has looked at it in any detail."
Green Party candidate Jenny Jones said: "As mayor I would ensure Londoners are better off financially whilst still securing the investment required for transport, the police and road safety."
Ken Livingstone's manifesto pledges include:
Cutting fares by 7% this year - saving the average Londoner £1,000 over four years
Working to reduce rents, improve homes with a London non-profit lettings agency
Tackling heating bills - through insulation and an energy co-op to reduce prices and help households save more than £150 a year
Reinstating a London EMA of up to £30 a week to help young people stay in education
Providing more support for childcare with grants and interest-free loans
Reversing Boris Johnson's police cuts, restore local sergeants