Negus McClean murder: Mother makes Facebook appeal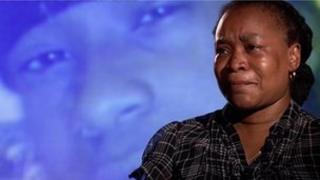 Social media websites are being used by police in an appeal for information about the murder of Negus McClean.
The 15-year-old was stabbed to death in Edmonton, north London, on 10 April 2011.
Police are using the first anniversary of his death to ask young people with information about the killing to speak to them.
Scotland Yard's appeal on Facebook and YouTube features emotional interviews with Negus's mother and sister.
In the online video, his mother Ingrid Adam said: "I have no words to describe how it feels to hear your son is dead."
'Speak up'
Police said about seven young black men on bicycles had chased Negus before the murder.
One of the suspects is thought to have been wearing a dark hooded jumper with a large Franklin and Marshall logo on the front.
Ms Adam said: "Negus died 16 days before his 16th birthday. He had his whole life ahead of him.
"There were so many things he wanted to do and so many plans he had, and he'll never do them now.
"He was always my baby. He was my Negus and that's what I called him. He was just my perfect baby and he's very missed."
Negus's sister Candice McClean said: "If they're scared, if they don't want to be scared for the rest of their lives then they need to speak up and get these people off the street otherwise that is just going to be the way it is forever."
Police have previously offered a £20,000 reward for information about the murder.