London mayor election: Brian Paddick 'to create youth hubs'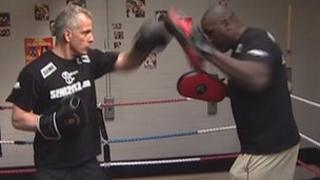 London's Liberal Democrat mayoral candidate Brian Paddick has pledged to create "youth hubs" funded by banks and luxury hotel guests if he is elected.
Mr Paddick said the hubs would "offer a positive alternative to gangs".
Londoners are due to go to the polls on 3 May.
Conservative Boris Johnson has said he would introduce a police taskforce to tackle gangs if elected. Labour's Ken Livingstone says he would reinstate Safer Neighbourhood police sergeants.
The Green Party has pledged to offer a job or apprenticeship to to all young, unemployed Londoners.
'Five-Star Fund'
Youth hubs, which would be open all week during the day and evening, were announced as part of the launch of the Lib Dem's full mayoral election manifesto at Pedro Youth Club in Hackney, east London.
The Lib Dems said banks would directly provide some of the funding for the hubs, while a "Five-Star Fund" from a voluntary £1 levy on hotel stays in London would provide additional financing.
"We want to give young people a positive alternative to gangs," Mr Paddick said.
"Clubs like Pedro are essential in keeping youngsters off the streets and giving them something practical to do. I want to see more clubs like this across the city."
The election manifesto also includes pledges to:
• Build 360,000 new homes on public land in London over 10 years
• Create a one-hour bus ticket, "early bird" fares and a part-time travelcard
• Increase police numbers and visibility and get police and communities working together through local crime surveys and better neighbourhood policing
• Introduce tough payback sentences to make criminals fix the damage they have caused
• Establish a London Small Business Fund
• Make all London's buses and taxis, as well as most commercial vans, electric by 2020
The other mayoral candidates are yet to comment on the Lib Dem's manifesto launch.