Fifth London cyclist killed after collision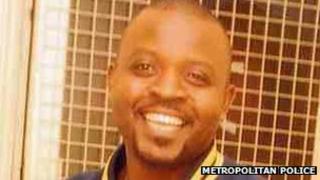 A cyclist has died from his injuries after a collision in north London - the fifth cyclist to die on the capital's roads this year.
Frank Mugisha, 41, a sports coach from Enfield, north London, died on 2 April, six days after the collision with a car in Great Cambridge Road, Tottenham.
A 62-year-old man has been arrested on suspicion of dangerous driving.
One person died in January, one in February and two last month, said a Transport for London spokeswoman.
None of the fatalities involved heavy goods vehicles, she added.
Mr Mugisha's brother-in-law said the father-of-four was a keen cyclist who had several bikes and had cycled in London for over five years.
He said: "I don't think the roads are safe for cyclists at all. They seriously need to do things for cyclists."
Pressure has been mounting in recent months for moves to improve safety on roads in London.
Transport for London has reviewed safety at 500 junctions, a national newspaper has been campaigning on the issue and pro-cycling bloggers have been calling for enhanced safety measures.