Terror suspect Talha Ahsan's family fear US extradition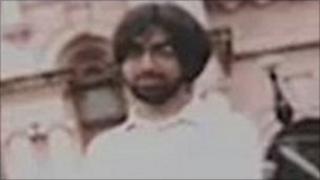 Abu Ahsan had high hopes for his son Talha when he was growing up.
He was educated at Dulwich College - a leading private school in south London - where fellow pupils remember him as an intelligent and bookish boy.
But Talha Ahsan has now spent nearly six years in jail awaiting extradition to America on terror charges.
And his father is worried if he is sent abroad they may never see him again.
"I don't know whether we'll be allowed to visit him," he said. "It is very depressing because I am 73 years old and my wife is disabled.
"If he has done anything wrong he should be tried in this country."
Mr Ahsan is accused in the same case as Babar Ahmad, also from Tooting and also fighting extradition.
US prosecutors allege the pair ran a jihadi website from London but hosted it on American internet service providers.
It is claimed they used the now defunct site - Azzam Publications - to upload extremist videos, raise funds for the Taliban and insurgents in Chechnya.
Prosecutors also say that they discussed possible attacks on US naval targets in the Persian Gulf with a former American soldier now in jail.
But Mr Ahsan denies being involved in terrorist activity.
He has never been charged in the UK, and the Crown Prosecution Service has not seen the evidence against him.
Mr Ahsan's appeal against extradition now rests on whether the European Court of Human Rights thinks he will be treated humanely by the US penal system.
In a US jail he could face years in solitary confinement in ADX Florence in Colorado, a so-called Supermax prison.
His family say they are particularly worried as since his arrest he has been diagnosed with Asperger's Syndrome.
But some in the UK support the extradition.
Community 'feels vilified'
Robin Simcox, from counter extremism think tank The Henry Jackson Society, said: "If these men have committed any crimes they should be convicted.
"And if they are innocent then I believe the American justice system will find them innocent."
Others in the Muslim community fear the case - and the length of time spent by Mr Ahsan in custody without charge - could have wider consequences.
Raza Nadim, from the Muslim Public Affairs Committee, which encourages British Muslims to get involved in the political process and "engage with the system", said: "All it will do is alienate British Muslims from the wider British society and fuel more anger.
"This is a community that already feels very vilified and unfairly targeted."
Mr Ahsan's family say they have been living in a state of constant uncertainty for the past six years.
They will find out on Tuesday whether or not he will be extradited.