Cruise boat stuck against Westminster Bridge on Thames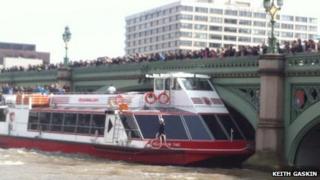 A tourist cruise boat got stuck after it was pushed against Westminster Bridge in central London by the tide.
The boat became stuck on Friday afternoon after the tide nudged it away from its berth at the pier on the bank of the River Thames.
The Port of London Authority said the boat's crew were trying to dock the boat, but the strength of the waves nudged the vessel up to the crossing.
A spokesman for the authority said nobody had been hurt.