Residents in sit-in protest over Friern Barnet Library closure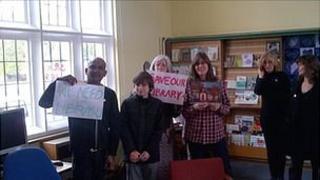 Residents have held a sit-in protest in a north London library after a council decision to close it.
About 11 people refused to leave Friern Barnet Library for five hours after Barnet Council decided at a meeting on Wednesday night to shut the facility.
The council said the decision was taken last July and a new library would open in 2013. The closure will save 20% of its £6m library budget.
Campaigners claim the consultation was "deeply flawed".
The sit-in protest inside the library began at about 13:00 BST and protesters left the building at about 18:00 BST, there are some children with them.
Some protesters from Save Friern Barnet Library campaign also gathered outside the building.
Campaigners claim the council decision was taken in the face of opposition from 3,000 local residents and when construction of the new building had not yet started.
The group said shutting the facility will "strip local residents of a much needed facility for children of 10 local schools".
A spokesperson said: "We feel devastated and outraged that the cabinet of Barnet Council have ignored the passionate call from local residents to save our library, the heart of our community.
"It is simply incredible that Barnet Council cannot see beyond the short-term financial gain of selling our library to the long-term harm this will bring to our community."
A council spokesman said: "We can understand why people who live close to the building may be disappointed to see this building close, but genuinely we think the new library will give a much better service to residents."