Policeman 'texted millionaire's daughter Laura Johnson during trial'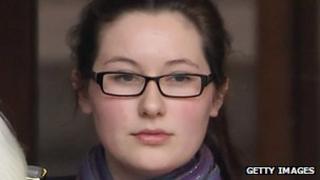 A Metropolitan Police officer has been placed on restricted duties for allegedly sending a text message to Laura Johnson during her trial.
Millionaire's daughter Johnson was convicted of burglary and handling stolen goods during the London riots.
A 38-year-old police officer from Bromley is being investigated following allegations of inappropriate behaviour, Scotland Yard said.
The text was raised in court by defence lawyers mid-way through the trial.
The officer was named in court as Det Con James Quigley, but the Metropolitan Police would not confirm this was the officer placed on restricted duties.
Det Con Quigley gave evidence in court detailing his contact with Johnson in the aftermath of the riots.
The officer went to her home in Orpington, south-east London, after the family received anonymous hostile letters following her arrest which drew widespread publicity last year.