London mayor race: Stephen Lawrence friend named deputy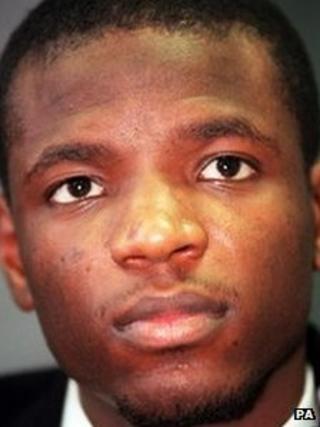 A friend of murdered teenager Stephen Lawrence has been named as a deputy to Liberal Democrat Brian Paddick if he is elected London mayor.
Duwayne Brooks was with the 18-year-old on the night he was killed in a racist attack in 1993 in Eltham, south London.
He became a Liberal Democrat councillor in Lewisham in 2009 and would be Brian Paddick's deputy mayor for youth and communities.
Mr Brooks said he was honoured to have been given the role.
Mr Paddick said the position would allow Mr Brooks to "develop opportunities that turn youngsters away from the gang culture that has developed in London".
He said: "We saw last summer what happens when young people feel disaffected, when they feel that they don't belong.
Mr Brooks said: "I intend to restore the trust between the police and all communities, as well as inspire our young people to take a stake in society.
A London mayor is allowed to select up to 10 political appointees who are not London Assembly members.
There are four deputy mayors in Conservative candidate Boris Johnson's current office including statutory deputy mayor Richard Barnes, Kit Malthouse, Sir Edward Lister and Isabel Dedring.
Val Shawcross would be Ken Livingstone's deputy if the Labour candidate is elected.
Caroline Pidgeon is Brian Paddick's running mate and Darren Johnson is the Green Party candidate Jenny Jones's running mate.