Bow roundabout 'cannot be made safe' - TfL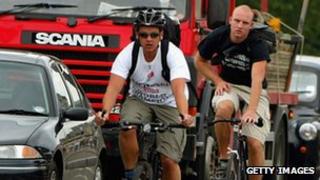 A roundabout where two cyclists were killed in a single month will never be completely safe for bikes, a Transport for London boss has admitted.
Brian Dorling, 58, and a 34-year-old woman were both killed at Bow Roundabout in east London last November.
After they died an urgent review into the roundabout was ordered.
But TfL commissioner Peter Hendy confessed the junction could never be made fully safe.
The Cycle Superhighway leads riders across the roundabout, which was at the centre of an outcry after the deaths.
Mr Hendy told BBC London: "We will never be able to make it perfectly safe."
Pressed on whether the original layout was flawed, Mr Hendy said: "At the time we designed it we thought it was the best solution.
"We have got two fatalities there and now we think we have got a better solution."
Charlie Lloyd, campaigns officer with the London Cycling Campaign, responded: "The roundabout is inherently unsafe - it is hugely hazardous for cyclists.
"So our solution would be to simply take out the roundabout all together.
"It's a flawed design, so why not get rid of it completely?"
The London Cycling Campaign said that before the deaths TfL was advised by its own consultants to put in place additional safety measures at the roundabout which were not carried out.