First phase of London digital switchover starts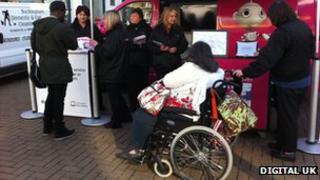 BBC Two has been the first analogue channel in London to be switched off.
The team helping viewers convert their TVs to receive digital say they have been "fairly busy".
Freeview viewers also need to retune or they will lose BBC One, BBC Two, BBC Three and BBC News.
Roadshows are taking place throughout London to help people who are yet to make the change. Advice points, run by volunteers, are also available in local communities.
An estimated 12 million viewers are affected in the London area, but the majority of homes had already switched to digital.
Switchover help scheme regional manager Luke McCullough said: "Today's been fairly busy, but we're geared up for that.
"It's still not too late to apply to get help in London. Applications for eligible older and disabled people to receive a range of aftercare and support to convert one TV can still be made up until 18 May."
Help and advice
Deborah Bain, London manager for Digital UK, said most of the calls they have received are about retuning. The others have been about aerials and recording equipment.
Helplines will remain open until 22:00 BST.
There are 11 roadshows across the London TV region run by Digital UK and the BBC switchover help scheme.
Ms Bain said: "Our roadshows attract thousands of people. People often come along with remotes and TV manuals. Our expert staff are on hand to give tailor-made advice and practical demonstrations.
"I've been to one of our roadshows in Croydon today and seen a steady trickle of people coming for advice.
"There are also 29 advice points run by local charities who are doing sterling work alongside the digital help scheme. They are assisting older viewers and those living with disabilities who need a little bit of extra help."
The switchover comes 75 years after the first regular TV service began in London.
Analogue BBC Two also ceased at midnight in parts of Berkshire, Essex, Hertfordshire, Kent, and Surrey.
The remaining analogue channels - BBC One, ITV1, Channel Four and Channel Five - will be turned off on 18 April.