Met Police 'error' over witness's name in MI6 spy death inquest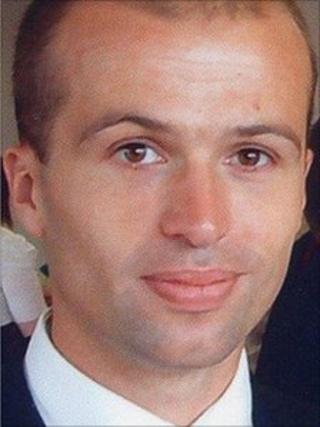 A coroner was given a wrong name for a witness in the case of an MI6 officer Gareth Williams, whose body was found in a bag in a London flat, police said.
The Metropolitan Police said "administrative errors" led to the coroner being given three different names for Elizabeth Guthrie.
She is to be asked about her contact with Mr Williams at the inquest.
She was listed as Miss Gunther, Misa Guseiri and Elizabeth Guthrie in papers sent to Westminster Coroner's Court.
Gareth Williams, 31, originally from Anglesey, was found in a padlocked bag at his flat in Pimlico, central London, in August 2010.
Miss Guthrie is expected to be questioned about her contact with the MI6 officer in the months before his death.
The cipher and codes expert was on secondment from GCHQ - the government's listening post - at the time of his death.
DNA mix-up
At a pre-inquest hearing last week coroner Dr Fiona Wilcox said "there has been some confusion" over the identity of the witness.
In a statement on Tuesday the Met said: "For the avoidance of doubt, the MPS would like to make it clear that Miss Guthrie has assisted the police investigation at every stage.
"Regarding the issue of the spelling of her name, the MPS would also like to clarify that this was not caused by Miss Guthrie but was a result of administrative errors when her statements were taken.
"The MPS would like to apologise to Miss Guthrie, her family, and HM Coroner for any confusion that has been caused."
The pre-inquest hearing also heard that a DNA sample found on Mr Wiliams's hand in 2010, which the Met thought was significant, turned out to be from a scientist at the scene. The error was spotted weeks before the pre-inquest hearing.
A couple that the police were seeking in relation to the death was also irrelevant to the case, the court heard.