Vicar and fixer jailed over sham marriages in London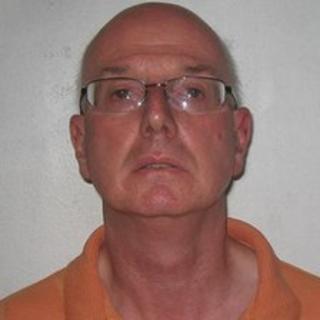 A vicar has been jailed for four-and-a-half years for his role in about 200 sham marriages that took place in an east London church.
Brian Shipsides, 56, presided over the marriages in All Saints Church in Forest Gate between December 2007 and August 2010, the court heard.
He had admitted one count of conspiracy to facilitate unlawful immigration.
Amudalat Ladipo, 32, who acted as the "marriage fixer" was jailed for three years, convicted of the same charge.
Prosecutors told Inner London Crown Court the vicar, of Forest Gate, netted more than £30,000 for his "meticulously planned and carefully orchestrated" scheme.
Ladipo, a Nigerian mother-of-two, of Plaistow, was sentenced to a further 18 months for a second count of possessing a false identity document. Both sentences will run concurrently.
During two-and-a-half years, the number of marriages at the Forest Gate church rose from 15 ceremonies taking place in the previous two years to almost 250, the Crown Prosecution Service said.
'Arrogance and greed'
Jailing Shipsides, Judge Peter Grobel said: "Your important role in this conspiracy was a disgraceful abuse of your calling as an ordained minister of the church.
"These marriages took place in your church. Your church where you had been the priest in charge for many years.
"Your criminal conduct appears to have been motivated as much by arrogance as by greed."
Up to seven sham marriages took place on one day in the church during Shipsides' tenure, the judge added.
The court heard Shipsides deliberately omitted to read wedding banns and avoided submitting records about the number of marriages being conducted at the church.
The weddings were largely between Nigerians and European Union citizens, a majority involving a Portuguese or Dutch national, to get a UK residency.
But the number of weddings raised concerns in the church.
David Walbank, prosecuting, said: "In at least one instance, such a concern was felt about one particular wedding that Rev Shipsides was instructed in terms that it should not go ahead.
"He responded in due course that he had cancelled that wedding. That was a lie.
"He had in fact gone ahead and conducted the ceremony despite being instructed not to do so."
The vicar also exploited a "loophole" in which the Church of England is not required to obtain a certificate of approval from the Home Office ahead of a marriage, Mr Walbank said.
When officers arrived at the church in July 2010 three bogus weddings were scheduled to take place.
Shipsides, who appears in the Guinness Book of World Records for officiating at the wedding of the world's tallest married couple in 2001, was suspended in August 2010 following his arrest.
Andy Russell, who led the UK Border Agency's investigation, said: "The scale of the abuse was staggering."