Police and TfL crackdown on London's limousines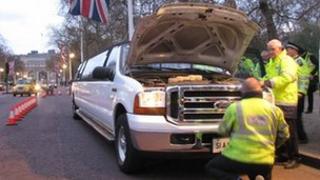 Some 70 limousine drivers have been penalised during a crackdown on rogue car operators in London.
Operation Kansas, a joint initiative between Transport for London and police, targeted illegal luxury or novelty cars.
Drivers were penalised for offences such as overloading, hiring the vehicle without a licence, and driving a non-roadworthy car.
Four limousines were confiscated and impounded.
Many drivers were handed fines.
TfL commissioner Peter Hendy said: "These vehicles present danger to anyone who uses them, and we are determined to deal with anyone who puts Londoners safety at risk.
"In many cases they are unsafe and uninsured."
Commander Adrian Hanstock, of the Metropolitan Police, said: "We are committed to ensuring the safety of Londoners and will continue to target those who operate illegal private hire vehicle through regular police enforcement."