East London pre-Olympics prostitution arrests 'worrying'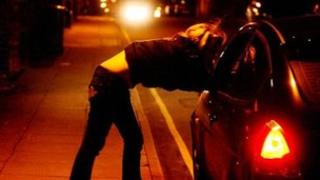 A crackdown on prostitution in east London ahead of the Olympics is making sex workers on the street "vulnerable to crime", a charity has said.
Toynbee Hall said it was worried about Tower Hamlets, where 48 arrests have been made since January, and Newham, which saw 21 arrests in two months.
A report by City Hall found 80 brothels had been shut in Newham in 18 months.
The Metropolitan Police said it acted "in response to community concerns" and not because of the Olympics.
Miriam Merkova, manager for Toynbee Hall's Safe Exit, which works on street prostitution, said: "We are concerned that in the run-up to the Olympics, increased levels of enforcement and new bail conditions imposed on women have made them more vulnerable to crime and violence.
"Arrests in the first two-and-a-half months [of 2012] have already exceeded arrest levels for the whole of 2011," she said.
In Tower Hamlets, 48 arrests have been made since January, compared to 44 arrests in the whole of 2011.
In Newham, the project found that police made 21 arrests in November and December 2011.
A total of 37 arrests were made between January and 15 November in that year.
The charity said it worried that bail conditions. such as barring prostitutes from areas and imposing curfews, led to displacement and the women taking risks to avoid arrest.
A report by London Assembly, Silence on Violence, also highlighted the situation in five of the "Olympic" boroughs - Newham, Tower Hamlets, Greenwich, Hackney and Waltham Forest.
Home Office figures showed 70 brothels were raided in those boroughs between January and August 2010, with another 33 targeted in Westminster and Camden. But in the rest of London a total of 29 raids took place during that time.
Over the past 18 months, in Newham alone 80 brothels have been closed.
'Worry' over policing
Assembly Member Andrew Boff, who compiled the report, said: "We know there is a concentration of police activity in the Olympic boroughs... (especially) the aggressive line taken to close brothels in Newham.
"I worry that the current way in which brothels in London are policed is actually preventing women from coming forward."
A Metropolitan Police statement said: "Police in Tower Hamlets, the local authority and the charity scheme Safe Exit have worked together over the last 12 months, unprompted by the Games, to respond to specific issues identified by the local community that are linked to on-street prostitution and associated anti-social behaviour.
"In December 2011 Newham Borough introduced the local policing model, which sees local people play a far more active role in directing where police focus their activity, plus an increase in the number of police officers available to respond to that local community direction."
A dedicated Met team was "closely monitoring" the Olympic boroughs to prevent people-trafficking, the statement added.
Tower Hamlets Council said: "Where they [sex workers] aren't willing to work with us, we are taking enforcement action against them.
"For example, in recent months we have successfully applied for a number of Anti-social behaviour orders against prostitutes working in Bethnal Green, where residents had raised prostitution as a concern."