London 2012: Olympic Stadium sees marriage proposal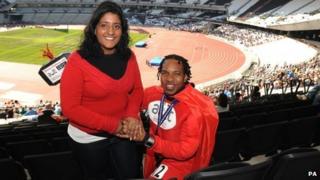 A man has proposed in front of 20,000 people at London's Olympic Stadium.
Charity mascot Wendell Raphael, 40, was shown on the big screen at a test event saying: "This is not an April Fool. Bindi Bhambra, will you marry me?"
She was shown in tears in her seat among the applauding crowd, nodding her head to say yes.
They were in the stadium for the Gold Challenge charity test event which saw members of the public compete alongside celebrities and sporting stars.
Mr Raphael acts as mascot Super Donor Dan - wearing a red outfit and matching cape - for the African Caribbean Leukaemia Trust, raising awareness of blood and bone marrow donation.
He said: "When it was confirmed I'd be taking part in the parade two weeks ago, I knew I wanted to propose in front of all these people here today."
He met his fiancee, a 35-year-old teacher from Bristol, on a dating website six months ago.
Mr Raphael, originally from Port of Spain, Trinidad, and now living in New Cross, south-east London, also took part in a race at the new stadium during the Gold Challenge charity test event.
The IT worker said he wanted his fiancee's "surname to be Raphael as soon as possible."
'Bawling tears'
Miss Bhambra said she had ruled out this summer for their wedding - as her new fiance will be carrying the Olympic Torch in Hackney in east London, two days before the Games begin, and also taking part in the opening ceremony.
Describing the moment of the proposal, she said: "It was a complete and utter surprise.
"I saw him in the parade and then all of a sudden he was gone - then I saw him on the big screen.
"I was crying then, because he does so much for charity and I thought that's what he was there for.
"When he proposed, I was bawling tears. I was just amazed ."