Thames cable car: Work to put up cabling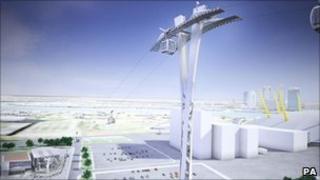 The cabling for a new Thames cable car river crossing is being put in place this weekend.
The Emirates Air Line will create a direct link between the 02 Arena in Greenwich and the ExCel exhibition centre, in east London.
The total cost of the scheme, to be completed this summer, is £60m, £36m of which is coming from the Emirates sponsorship.
The three towers for the cable car have already been put in place.
Fare revenue
The cable car will run between two new stations, set to be named Emirates Greenwich Peninsula and Emirates Royal Docks.
Initially, Transport for London (TfL) estimated the cost for the project would be £25m and said it would use only private finance to pay for it.
But in October TfL pushed its forecast up to about £60m. The £24m shortfall will be covered by third party funding and fare revenue.
The service will be able to carry up to 2,500 people per hour in each direction at peak times.
It is anticipated that it will carry two million passengers a year.