London 2012: Occupy protesters halt Leyton Marsh work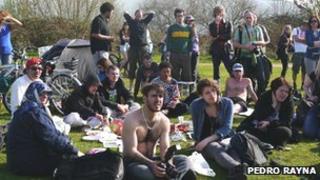 Protesters have stopped work from taking place at a training camp for the Olympic Games in east London.
Members of the Occupy London movement have joined residents opposing the use of Leyton Marsh in Hackney for a basketball practice hall.
The demonstrators have stopped trucks from entering the site since Friday.
The Olympic Delivery Authority (ODA) said it is a temporary structure which will be taken down after the Games and it was in talks to resolve the matter.
'Assisting residents'
Members from the Occupy London group who camped outside St Paul's Cathedral joined the residents from Save Leyton Marsh on Saturday.
On Wednesday an Occupy spokesman said about 20 people were at the site - about half were members of Occupy - and up to 10 would camp overnight.
A large tent is blocking one of the entrances, he said.
An ODA spokesman told the BBC lorries had not tried to enter the site since protesters blocked the entrance and forced them to turn back on Friday and Monday.
He said meetings were now being held to decide what the next move would be.
Kris O'Donnell, from Occupy London, said residents invited the group to join their campaign.
He said: "We have issues with the way this land is being dealt with. It is green belt land.
"Our aim is to assist the residents in any way we can."
He added: "We are not doing this as a protest against the Olympics in any way, shape or form."
Residents have run a long campaign against the use of Leyton Marsh, fearing the work completed for the Olympics venue will remain a permanent fixture.
'Majority unaffected'
The ODA spokesman said: "We have said repeatedly that the basketball training venue for the Olympics and Paralympics is a temporary structure and it will be removed by mid-October as part of the agreement with the landowner.
"We have made that crystal clear and the land will be restored to its previous state.
"The vast majority of Leyton Marsh is completely unaffected."
He said it was regretted that action had been taken which has delayed work on the site.
But residents have demanded further reassurances.
Jane Bednall, who lives near the site, said: "We want to stop the construction and, if not, we want a very tight legal document which says we are getting the land back in October."
She said residents had been stopping lorries for nearly three weeks.
The ODA said the other sites considered for the basketball venue did not match the specific requirements of the International Basketball Federation.