London mayor election: Greens urge vote for Livingstone as second preference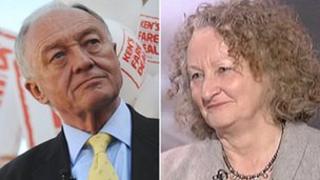 The Green Party London mayoral hopeful has asked supporters to vote for her Labour rival as their second choice.
Jenny Jones said Ken Livingstone, of Labour, was "far from perfect" but the best alternative if she did not come in the top two in the first round.
Mr Livingstone said the endorsement showed "a broadening alliance of people want a fairer London".
A spokesman for Conservative mayor Boris Johnson said Labour had already declared a coalition with the Greens.
Mr Livingstone will later visit the Green Party's headquarters to discuss his policies with their party members.
'Far from perfect'
Ms Jones said: "Should I not be counted among the top two candidates after the first round, then I want a mayor who will work with Green Party assembly members to deliver on pay equality, less pollution and cheaper fares.
"Ken Livingstone is far from perfect, but we know from his last time as mayor that we can work with him to make positive changes, in a way that would be impossible with either Boris Johnson, or many other senior Labour politicians."
Mr Livingstone said: "The Green endorsement for second preferences is a key building block to winning change on 3 May.
"I look forward to working again with Green assembly members, including tackling air pollution, creating a fairer London, and improving pedestrian and cyclists' safety."
The Green Party said it had decided to back the former mayor as he had pledged to curb the pay of top staff at City Hall, help the lowest paid workers, tackle the issue of air pollution and support boroughs who want to introduce a 20mph speed limit on their roads.
The spokesman for Mr Johnson's campaign said: "Ken Livingstone had already said he would join Jenny Jones - his previous deputy mayor - in a coalition and that he will give them [The Greens] real power.
"What is surprising is that if the Green Party actually looked at Mr Livingstone's record they would see that every year under his mayoralty an area of green garden space two-and-a-half times the size of Hyde Park was lost - another example of his broken promises."
A spokesperson for Liberal Democrat candidate Brian Paddick said: "If Jenny Jones wants you to vote for Ken Livingstone, then why should anyone vote for Jenny Jones?
"We won't patronise our supporters by telling them how to use their second preference."