London Riots: Laura Johnson's mental health 'worse than ever'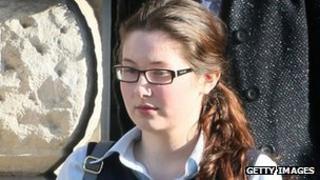 A student accused of driving around looters during the London riots has told a court her mental health was "worse than ever" before the riots.
Laura Johnson, 20, of Orpington, said she was feeling "very bad" on 8 August, after splitting from her boyfriend.
She said she had attempted to kill herself six times, but denied making up an allegation about being raped on 14 July, weeks before the riots.
She denies three counts of burglary and three counts of handling stolen goods.
Inner London Crown Court heard that Ms Johnson, a millionaire's daughter, had been a good student, getting 10 GCSEs and four A-levels before going to Exeter University.
Rape 'made up'
When her boyfriend at university split up with her she said she felt suicidal and began self harming. She was prescribed anti-depressants and sleeping pills.
She told the jury that she had made six attempts on her life by overdosing on tablets and on three of those occasions she was admitted to hospital.
Miss Johnson told the jury she was raped by two men on 14 July but did not initially report it, although she told her then boyfriend. The attack caused her mental health to become "worse than ever before".
But during cross-examination the prosecution challenged her claim saying she had made it up to bolster her defence that she acted under duress. Miss Johnson denied this saying she was good at hiding how she felt.
The court heard that the day after the alleged rape mental health professionals treating her noted her mood as relatively positive. She told them about the rape claim almost a month later, Sandy Canavan, prosecuting, said.
The prosecution alleges she voluntarily drove around three looters - Emmanuel Okubote, 20, who she knew as "T-Man", Alexander Elliott-Joahill, 18, and a 17-year-old who cannot be named for legal reasons.
Elliott-Joahill has pleaded guilty to burglary and handling stolen goods. The 17-year-old, from Catford, admitted one count of burglary but denies two further counts of burglary or handling stolen goods.
The court heard that Okubote was a recent acquaintance of Miss Johnson and that on 8 August she had gone to meet him to deliver a phone charger, before meeting her ex-boyfriend. She said was feeling "very bad".
She said Okubote opened the passenger door through the open window and spoke to her "short and sharply", ordering her to drive. Two others joined him.
'Smiling' picture
She said she was unable to say "no" to them and she was made to drive around the Catford, Hither Green and Charlton areas as they robbed stores and people.
"The tone of it, the way they were dressed, the shock of it all, it pushed me to not resist. I was scared," Miss Johnson said.
The court heard she decided not to leave her car and run as she did not know the area and felt disorientated.
The jury was shown CCTV footage of the car stopping at a petrol station. Until then they had not threatened her but the men had been talking about robbing people at knifepoint, she said.
When she objected to them describing the rioting and looting as the "cause" T-Man had put his hand around her neck and jabbed his thumb into her throat.
She did not want to participate in the looting because she believed it was for "personal gain" and not a cause.
The court also heard the men had a verbal altercation with a 17-year-old who drew up in a car alongside them at a retail park.
He took a picture of her at the wheel of the car and she appeared to be smiling in the picture.
Miss Johnson said: "My response was, if I smile and he goes away, that's fine. If I smile he will leave, rather than antagonising him."
The jury was told that Miss Johnson did not mention being threatened during the police interview and spoke about the presence of a knife in the car only when she was taken to her cell.
The case continues.