RMT legal threat to Boris Johnson over election poster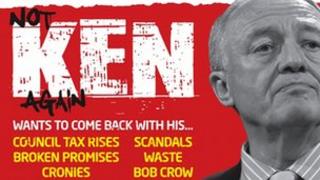 The RMT union is threatening Boris Johnson with legal action over a poster it claims portrays leader Bob Crow as "corrupt, venal and scandalous".
The "Not Ken Again" poster began appearing in March. It features Mr Crow's name alongside the words "scandals" and "cronies".
The RMT claims the poster is defamatory and says it has made a complaint to the Electoral Commission.
A spokesman for Mr Johnson laughed off the threat.
He said: "We knew Ken Livingstone was a controversial character.
"But if even Bob Crow is worried about being associated with him, things must be getting serious."
A spokesman for RMT said: "Our opinion is that this poster falsely portrays Bob Crow and RMT as part of some corrupt, venal, scandalous and wasteful group of cronies associated with Ken Livingstone.
"Bob Crow has not supported Mr Livingstone's campaign as a Labour candidate for mayor, and RMT is not affiliated to the Labour Party.
'Scare tactics'
"RMT has made it clear that we will have no hesitation in taking swift and decisive action against any organisation that makes false allegations against the union."
A spokesman for Ken Livingstone said: "Boris Johnson has consistently tried scare tactics about Bob Crow in this election and now they are blowing up in his face.
"He tried to make Ken and Bob Crow look like cronies when the facts are very different."