Adam & Eve pizza 'as salty as 20 packets of crisps'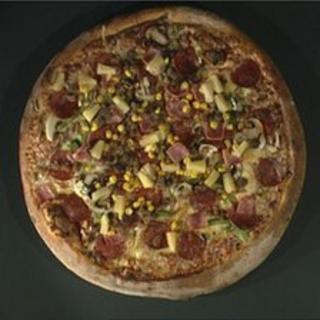 A restaurant in north London has been selling a pizza that has more than two teaspoons of salt, a study has shown.
A pepperoni pizza from the Adam & Eve restaurant in Mill Hill contained 10.57g (0.37oz) of salt.
Consensus Action on Salt and Health (CASH) said it was the equivalent of 20 packets of ready salted crisps.
The restaurant's owners said they welcomed the research - involving 199 UK pizza outlets - and have altered their recipe to reduce salt levels.
The survey was conducted by CASH and the Association of London Environmental Health Managers.
'Unnecessary amounts'
Adam & Eve group manager Gareth Leakey said: "As a small independent outlet it's very helpful and rare to have direction on such aspects of nutrition.
"We were informed of the survey two days ago and we have already changed our recipes and suppliers to lower the amount of salt in four pizzas to within recommended levels."
The survey analysed 199 margarita and pepperoni pizzas, from takeaways, pizza chains and supermarkets across the country, as part of Salt Awareness Week.
CASH chairman Prof Graham MacGregor said it "allows consumers to realise the huge and unnecessary amount of salt added to food by the food industry".
Further results of the research showed takeaway pizzas can often contains up to two and a half times more salt than the average supermarket pizza.
Half of all takeaway pizzas analysed contained the entire maximum daily recommendation of salt, researchers found.
Manufactured trans fat, which can cause strokes and heart attacks, was found in 84% of the takeaway pizzas.
Correction 29 March 2012: This story previously claimed the pizza was "saltier than sea water" based on figures supplied by Consensus Action on Salt and Health. The BBC has since investigated this claim and believes it is not the case.