Shot man is Russian ex-banker German Gorbuntsov, police confirm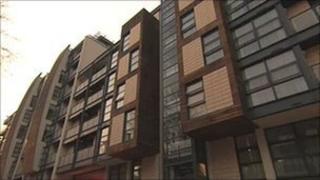 A man shot several times in east London is former Russian banker German Gorbuntsov, Scotland Yard confirmed.
Mr Gorbuntsov, 45, is under armed guard in hospital, where he is in a coma and in a critical but stable condition.
He was shot several times by a man as he entered his apartment in Byng Street, Isle of Dogs, on Tuesday.
No arrests have been made and detectives are treating the shooting as attempted murder.
They have renewed their appeal for information.
The suspect is described as a white male, 6ft, of slim build, and was seen running from Byng Street away from Westferry Road, towards Marsh Wall.
Detectives from the Trident gang crime command are dealing with the incident, which happened at about 19:30 GMT.
However, Scotland Yard said the shooting, which happened near to the Canary Wharf financial district, is not thought to be gang-related or linked to any other incidents in Tower Hamlets, in east London.
Police said it was "too early to speculate" on Russian reports linking it to a murder attempt in Moscow on another banker, Alexander Antonov.
The Metropolitan Police would not confirm Russian reports the attacker had used a sub-machine gun and officers declined to reveal where Mr Gorbuntsov is being treated.
'Contract hit'
Mr Gorbuntsov previously owned banks in Russia and Moldova, according to Russian media.
He was returning to his home when the attacker opened fire, the Russian Kommersant newspaper has reported.
There has been speculation in the Russian press that Mr Gorbuntsov was a witness to the murder attempt on Alexander Antonov in 2009.
Aleksander Nekrassov, a former Kremlin adviser, told the BBC: "It looks like a contract hit to be honest because a sub-machine gun is not really a weapon that would be used by some amateur.
"This man [Mr Gorbuntsov] is part of a major investigation in Russia into the attempted assassination of another big banker Alexander Antonov."
He said the investigation was reopened on 2 March after Mr Gorbuntsov "came up with evidence - well he claims that he knows a couple of people who were behind that attempted assassination".
"That is why there are suspicions that he may have been targeted by people who wanted him out. He was planning to give evidence," he said.
"Certain people were either trying to avenge or interfere with a criminal investigation. I think what we are seeing here is [the] strange ways that some of Russian businessmen carry out their deals, spilling over into Britain."
Window shot out
Scotland Yard said it was "too early to speculate" on such reports.
The BBC's security correspondent Gordon Corera said: "Although at this stage the motive for this attack remains unclear, the concern will be that the type of violence long associated with business and organised crime in Russia might have arrived on the streets of London."
Mr Nekrassov added Mr Gorbuntsov was "one of the big bankers" in Russia but over the past few years he "did sort of drift away from banking and was selling his interests in Russia".
"His troubles began in the 1990s and he had to flee to Moldova and the police are looking to talk to him," he said.
"There is a warrant in Moldova for his arrest."
A 54-year-old management consultant, who lived in the building and gave his name as John, said police told him the attacker was "known" to the victim.
"Around 9pm that night the police knocked on the door and mentioned there had been an incident, and that someone was critically injured and taken to hospital," he said.
"They mentioned that the attacker was known to the person who'd been attacked."
Tony Smith, 26, an estate agent who was driving down the street moments after the shooting, said: "The window was shot out on the door. I looked at him, I thought he had been stabbed at first. I didn't expect this to happen in this block."