UK Uncut protesters cleared of Fortnum and Mason trespass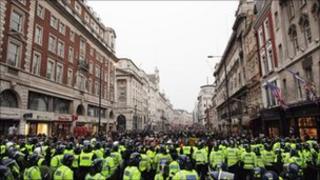 Eight protesters accused of occupying Fortnum and Mason store in central London during a protest last year have been cleared of trespass by a court.
The Piccadilly store was targeted by UK Uncut group on 26 March 2011 on the day the TUC organised a march in London against the government's spending cuts.
City of Westminster Magistrates' Court found the eight protesters did not commit a public order offence.
In separate trials two other groups were convicted of aggravated trespass.
District Judge Quentin Purdy cleared east Londoners Lewis McNeil, 30, of Hackney; Rosemary Slay, 23, Stoke Newington; Robert Safar, 28, of Bethnal Green; Stephen Reid, 26, of Walworth, south London and Alexander Wood, 26, of Haringey, north London.
Robert Tresidder, 66, of Matlock, Derbyshire; Josephine Whitaker, 25, of Temple Road, Oxford and Joseph Whitfield, 25, of King's College, Cambridge, were also cleared of committing a public order offence.
Sit-in demonstration
Following the acquittal Stephen Reid said: "The judge today recognised our legitimate right to protest. He listened carefully to the evidence, and we're delighted that he found us not guilty.
"It is absurd that other people who did exactly the same as us were found guilty while we weren't.
"As cuts begin to bite, we will continue our fight to ensure that the wealthiest pay their fair share of tax."
The two groups of protesters, who were found guilty in separate trials, are planning to appeal against their convictions, UK Uncut campaign group said.
During those trials the court heard that the group organised a sit-in protest at the luxury food store which the campaign group accused of "tax avoidance".
The demonstration is said to have cost the store more than £54,000 in lost sales.