Crossrail dig uncovers historic Limmo Peninsula shipyard remains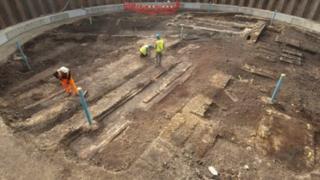 Archaeologists working at an east London Crossrail site have uncovered remains of the historic Ironworks and Shipbuilding Company.
Work is under way at Limmo Peninsula, by Canning Town, to record the remains of the shipyard, which shut in 1912.
The firm employed thousands of people to build ships for navies worldwide.
Crossrail said details of the shipyard were documented before digging began so it had incorporated the excavation work into its construction programme.
It said tunnelling in the area where the shipyard is being excavated would begin later this year.
The shipyard played a significant part in Britain's industrial history until its closure in 1912.
It was the first in the world to produce iron ships - some of the most famous warships in the world were built and launched from Limmo Peninsula.
Crossed hammers
The HMS Warrior, the world's first all-iron warship was completed at the site in October 1861 and was the largest, fastest, most heavily-armed and most heavily-armoured warship in the world.
The company also set up a football club for their employees using the emblem of crossed hammers, which is now West Ham United.
Jay Carver, Crossrail's principal archaeologist, said: "The excavations so far have uncovered evidence for the site railway, forges and a furnace and machine bases with bolts that would have secured the heavy ironworks plant to the floor.
"There are no longer any detailed plans of the final layout of the works and these results will help piece together how the site operated."
Excavation work on the site is set to continue until May.
The £16bn Crossrail project is to due to be completed by 2018. It will pass through 37 stations on a 73-mile (118km) route, from Maidenhead and Heathrow in the west, to Shenfield and Abbey Wood in the east.