Tuberculosis rises 8% in London - HPA figures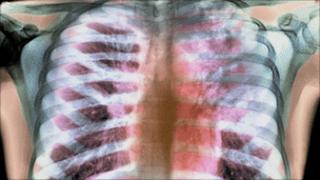 Tuberculosis has increased by 8% in London, new figures show.
The Health Protection Agency (HPA) said there were 3,588 new cases in the capital in 2011 - up from 3,309 the year before.
TB is spread by an airborne germ and leads to people coughing up blood. The rise is thought to be connected to a rise in homelessness in the city.
Nationally TB increased by 5%, with 9,042 new cases of the disease reported.
The jump in cases comes after a stabilisation in 2010.
Dr Sarah Anderson, a TB expert from the HPA, said: "TB has been increasing steadily in London over the past two decades.
"While it is concerning to see this latest increase in cases in London, more years of data are needed to know if this trend will continue.
"We must however remain vigilant in our fight against this preventable and curable infection, which can be fatal if prompt diagnosis and treatment are not given."
She added: "The risk of contracting TB is largely confined to a number of specific groups within London.
"These include the homeless, problem drug and alcohol users, prisoners, as well as some non-UK born groups because of their links with countries where TB is much more common."
TB is not easily spread and close, prolonged contact is required for someone to be at risk of infection.
The greatest risk is to people who live in the same household as someone with the disease.
'Serious health issue'
Symptoms include a prolonged cough, fevers and weight loss.
Dr Anderson added: "The increase in London's TB rates reinforces the critical need for early diagnosis and treatment to control this serious public health issue.
"It is also important that everyone is aware of the symptoms."