London Riots: Accused Laura Johnson 'acted as driver'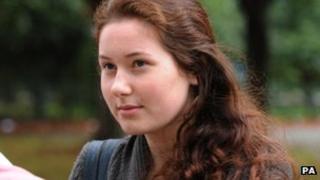 A millionaire's daughter accused of stealing £5,000 worth of electronic goods during the London riots acted as a chauffeur, a court has heard.
In a statement to police, Laura Johnson said electrical goods were loaded into her car over about two hours.
She said she did not feel she could say no to her recent acquaintance, known as "T-man".
Miss Johnson, 20, of Orpington, denies five counts of burglary and three counts of handling stolen goods.
'Could not decline'
She is accused of stealing £5,000 worth of electronic goods during the disturbances on 9 August.
She told officers how one of her passengers had suggested targeting a jeweller's to steal valuables for her.
"One boy said we should be hitting jewellery stores and he said, 'Laura wants to be going home with a £10,000 necklace today'," she told officers.
But she insisted she shouted down this suggestion.
The court heard how she set out earlier in the evening to deliver a phone charger to a friend she knew as T-man or D-man - a man who has also been referred to as Sylar.
When she arrived at their meeting point in Catford, south London, he jumped into the car while others leapt onto the back seat and she was ordered to drive on.
In a statement to police, she told how she was instructed to drive from one place to another over a couple of hours as mobs raged across London.
Every so often goods, such as a TV and a package the size of a microwave, would be loaded into the vehicle.
When she stopped, her passengers - most of whom she claimed to have never met before - would embark on a looting mission before packing stolen items into her car, she told police.
The individual identified as T-man or D-man was a recent acquaintance but she told detectives the pair were "not very close friends" and she did not know his full name.
'Wasn't planned'
Asked why she had not refused to drive that night, she told police: "I didn't get the impression they were the sort of people you say no to.
"I suppose there's a fear of them, there's a general knowledge that these are just not the kind of people who you don't go along with, especially when they are sat in your car and have an idea of your family or registration plate.
"The thing is, it kind of took me by shock because I didn't expect to be driving around with people I didn't know," she said.
"I didn't expect to be driving around at all. I thought I was just dropping things off."
She added: "It obviously wasn't really how I expected my day to go. It wasn't what I planned to go out and do.
"The whole time I was getting worried messages off my friends and my mother."
The Exeter University student said she told her mother she was seeing friends from university.
The prosecution has argued that she was not acting under duress.
The case continues.