Diving suit man Lloyd Scott denied London Marathon farewell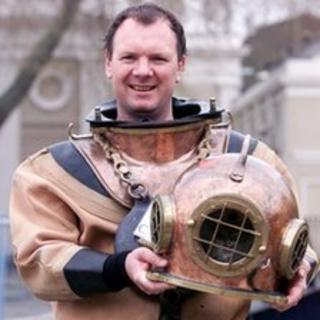 What do Indiana Jones, St George and Brian the Snail from the Magic Roundabout have in common?
They are just a few of the characters Lloyd Scott has adopted as his guise to complete the London Marathon over the years.
This year, the 50-year-old extreme charity fund-raiser planned to repeat the feat he is most famous for - walking the course wearing a 1940s deep-sea diving suit.
The former footballer said it would be his final challenge before retiring from the event, 10 years since he donned the suit for the first time and 25 years after he was diagnosed with leukaemia.
But marathon organisers have rejected his plans because a rule-change has meant competitors must complete the course within a day.
In 2002, Mr Scott took five days, eight hours, 29 minutes and 46 seconds to reach the finish line, while wearing the 130lb (59kg) suit.
"I am desperately disappointed by the decision," he said.
Race directors Dave Bedford and Hugh Brasher confirmed the rules have been altered.
"Our policy on this area has evolved and we do have to have a cut-off point and to restrict finish results and finishers medals to those competitors who finish the event before 18:00 BST on the same day of the start of the event," they said in a statement.
Mr Scott, from east London but living in Essex, decided he wanted to don the diving suit one more time, last July, and says he has already raised £10,000 in sponsorship.
"[The charity also] had a number of fund-raising opportunities in place to raise a lot of money," he said.
He believes the London event is "without doubt the best marathon in the world" and the organisers "can be rightly proud of being the biggest fund-raising event on the planet.
"So, to miss out on this opportunity when the charities are having a really difficult time is immensely frustrating," he said.
But, marathon organisers said "the climate" surrounding the event is now "very different" and entrants have to complete the course on the same day.
Last year Mr Scott crawled around the course as Brian the Snail from the Magic Roundabout for the Action For Kids charity.
It took him 26 days to complete the challenge.
Tremendous support'
However, the charity terminated his contract as director of fund-raising less than two weeks later, claiming he did not raise enough money for them.
"I had tremendous support and sympathy from the public but I have a proven track record and I certainly don't want to finish on that note," he said.
"I was determined for my last marathon to be a fund-raising success."
For the man who played football for Blackpool, Leyton Orient and Watford, fund-raising has not stopped at marathons.
Having raised more than £5m for various charities over the years, his feats have ranged from cycling a penny farthing across Australia to an underwater marathon in Loch Ness.
In recognition of his charity work, last week he was selected to be an Olympic torchbearer.
Mr Scott also received an MBE in 2005 for his services to charity, which he joked should stand for "mad, bonkers and eccentric".
Now though, he is considering reducing his activities.
"I've had over 20 operations and a bone marrow transplant," he said.
"I've been training really hard, but it's time to start thinking about winding down a little bit.
"I really wanted to raise a lot of money for charity and go out the way I came in."
He said he has considered alternative ways that he could compete in this year's London Marathon on 22 April.
"But, there is no way I can attract the same amount of sponsorship and finish the way I would want to by trying to complete the course in a day," he said.