London mayoral election: Boris Johnson vows to create jobs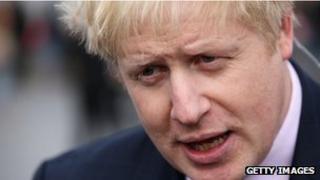 Boris Johnson has used the official launch of the mayoral campaign period to claim he will create more than 200,000 jobs if re-elected.
The Conservative is standing against his Labour rival Ken Livingstone, Liberal Democrat Brian Paddick and Green candidate Jenny Jones on 3 May.
He promised to create jobs in transport, housing and the Greenwich peninsular.
Labour said unemployment in London had risen under his watch.
Mr Johnson said that he would create 32,300 jobs in transport projects, 104,000 jobs building new housing and 5,500 jobs in the Greenwich Peninsula and Royal Docks.
He said the remaining 59,500 jobs would be created through "a variety of initiatives", including projects around Olympic legacy and funding for regeneration of areas affected by last summer's riots.
Launching his campaign in Crayford, Mr Johnson said: "What Londoners need, above all, are jobs - because that's the real answer to the rising cost of living and the uncertainty we all face.
"Through working hard to cut waste in the Greater London Authority, freeing up £3.5bn for services and securing a better deal for London from Number 10, we will directly create 200,000 jobs for Londoners."
A spokeswoman for Ken Livingstone said Mr Johnson could not "run away from his record".
She added: "Official data show that employment in London is falling and he is on course to preside over no new net jobs in London over four years.
"Under eight years of Ken Livingstone as mayor 400,000 jobs were created."
Mr Livingstone, who launched his campaign in Kilburn, said voters had a "clear choice" between "someone like myself with a long term commitment to London, as opposed to someone using it as a stepping stone to being leader of the Tory party".
He added: "I don't want to be the leader of the Tory party - all I have to do is what's right for London."
A spokesman for Mr Paddick's campaign said: "Mr Johnson has had four years to create jobs for Londoners, yet unemployment continues to rise.
"He appears to have plucked numbers out of the air in the hope that voters will believe him this time round."
Mr Paddick himself added: "The trouble is both Ken Livingstone and Boris Johnson hate each other - and this has become a personal vendetta between them."
Green Party candidate Jenny Jones has already pledged to create 150,000 apprenticeships and jobs.
She said: "Green Assembly Members have already secured multi-million pound investments in green jobs and exposed low quality apprenticeships backed by the mayor.
"Our plans for London include setting up community enterprise zones, supporting industries such as renewable energy manufacturing and internet start-ups."