EastEnders actress Gemma McCluskie's 'arm found'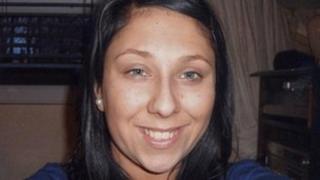 An arm believed to belong to EastEnders actress Gemma McCluskie has been found in the east London canal where her torso was discovered.
The limb was spotted in Regent's Canal, Hackney, two weeks after the 29-year-old's torso was found.
Police were alerted to the severed limb on Monday, before recovering it from the water close to Broadway Market.
Tony McCluskie, 35, of Pelter Street, Hackney, is charged with the murder of his sister.
Mr McCluskie is accused of killing Ms McCluskie sometime between 29 February and 6 March.
He is due to appear at the Old Bailey on 18 June for a plea and case management hearing.
Ms McCluskie, who played Kerry Skinner in the soap in 30 episodes during 2001, went missing after being seen on 1 March, at the opening of Royal London Hospital in Whitechapel.
A Metropolitan Police spokesman said: "Police were called at 09:35 [on Monday] to reports of an arm found in the Regent's Canal in Hackney.
"Officers attended and recovered the limb close to the Broadway Market stretch of the canal.
"We await further tests to determine the identity, but at this stage it is believed to be connected to the murder of Gemma McCluskie."