Croydon police station explosion leaves seven people hurt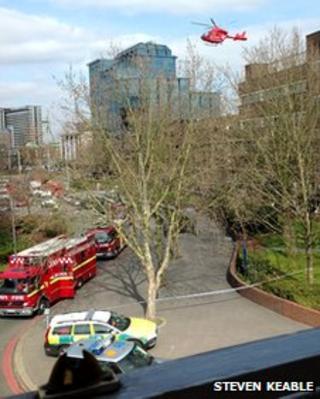 Seven people have been injured in an explosion in the basement of a police station in south London.
About 50 firefighters tackled the resultant blaze, which began at about 11:20 GMT at Croydon police station.
Five people were taken to hospital, one of them said to be in a serious condition.
A police spokesman said the cause of the blast was unknown but said it was a "non-terrorist" incident.
At least some of those injured are understood to be builders carrying out work at the premises.
The most seriously injured man was airlifted to hospital, while one police officer is understood to have suffered burns.
Firing range
Cordons were put in place around the building, on Park Lane.
More than 100 police officers were evacuated, along with 14 prisoners.
The explosion took place on the police station's firing range.
But Ch Insp Trevithick said there was "no way" the explosion was started by weapons being fired.
And the Met spokesman insisted the borough remained "fully operational" for police, adding: "There has not been any disruption to service."
The force was unable to specify what building work has been taking place.
Health and safety investigators have been called in to investigate.