Antoni Imiela: M25 rapist's previous attacks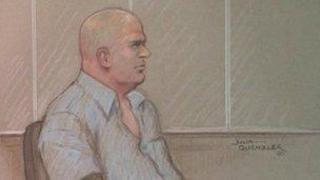 Antoni Imiela had already been jailed for eight violent sex attacks - all carried out over the space of a year - when cold case investigators believed he could have been responsible for another, carried out more than a decade before.
Imiela, who was jailed in 2004 for seven rapes between 2001 and 2002, was hauled in for questioning again six years later.
This time he was suspected of the rape, indecent assault and serious sexual assault of a 29-year-old woman in the early hours of Christmas Day 1987 in Forest Hill, south-east London.
Investigators said DNA samples from Imiela, who had also previously been convicted of armed robbery, matched with those originally taken from his 1987 victim, who died in 2006.
On Thursday, Imiela, originally from Appledore, Kent, was also convicted of that attack.
Following his conviction, the judge told the jury Imiela had been more widely known as the "M25 rapist".
10,000 calls
In November 2001, former railway worker Imiela began what Kent Police described as a "rape spree" and attacked a total of eight women and girls between then and 21 November 2002.
In each case, he would snatch his victims where they were walking, drag them into a secluded area and rape them - exactly what he had done with his first victim.
The first attack, on a 10-year-old girl in Ashford, sparked what police said was the biggest investigation since the Yorkshire Ripper case, costing £2.1m.
Up to 350 officers took about 10,000 calls from the public in response to appeals for information. More than 3,500 men were DNA-tested in the course of the investigation.
About eight months later in July 2002, he raped two women on the same day - a 30-year-old in Earlswood, Surrey, and six hours later a woman, aged 26, on Putney Common, south-west London.
In August, he attacked a 52-year-old woman on Wimbledon Common and, the next day, a 26-year-old woman in Epsom, Surrey.
His sixth victim, in September 2002, was a girl of 13 in Woking, Surrey, and the following month he targeted a 14-year-old girl in Stevenage, Hertfordshire.
Police linked the various attacks and an appeal to catch the sex predator was broadcast on the BBC's Crimewatch programme in October 2002.
A month later, he struck again.
In November 2002, he preyed on another 10-year-old girl - this time in Birmingham - who he indecently attacked.
'Savage and perverted'
Imiela was finally arrested on a motorway in Kent weeks later.
In March 2004 he was convicted of the seven rapes, which prosecutor Richard Hearnden described at the time as "a savage and perverted campaign against total strangers".
After that case, Imiela was jailed for life with a minimum term of eight years, meaning he would have been eligible for parole later this year.
In the latest court case over the 1987 attack, the Old Bailey jury was told about his catalogue of previous sex crimes.
But at the time of his first sex attack Imiela was already on the run after an armed robbery.
Two weeks after the rape, he handed himself in to police for the robbery and was jailed for 14 years for that crime.
In the latest trial, which ended on Thursday, the court heard how the victim - who transpired to be Imiela's first in a long line of victims - had to seek treatment for mental health problems two years after the attack.
After being discharged by doctors, she moved to South Africa and her marriage ended.
She died in 2006 and it was another four years before the Metropolitan Police charged Imiela over the attack.
Det Con Claire Watts said it was "extremely sad" the victim was "no longer alive to witness justice served".
And police believe the case surrounding Imiela might not yet be closed.
Det Insp John Foulkes said it was "likely that police are unaware of all his offending". He urged any potential victims of his from the late-1980s or between 1996 and 2002 to come forward.