Royal Brompton Hospital bid to save heart unit 'premature'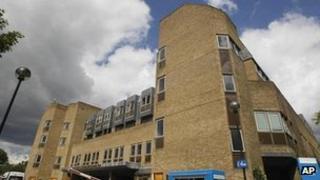 A west London hospital's legal bid to save its children's heart surgery unit is "premature" and delaying an urgent review of cardiac care, a court heard.
The Royal Brompton Hospital challenged the way a consultation, which recommended the unit's closure, was carried out by the Joint Committee of Primary Care Trusts (JCPCT).
The hospital is "putting a spanner in the works", the Court of Appeal heard.
But the hospital claims closing the unit would be "bureaucratic vandalism".
The JCPCT's move is part of a wider consolidation of streamlining and moving paediatric congenital cardiac surgery services (PCCS) to fewer sites across England.
'Short circuiting' proceedings
The consultation came after a report, following an inquiry in Bristol between 1990 and 1995.
It recommended that paediatric cardiac units should perform at least 300 operations a year and that such surgery be done in a few specialist centres.
The JCPCT is considering keeping two of the three specialist units in London - in the Evelina Hospital, a part of Guy's and St Thomas' Hospital Trust, and Great Ormond Street. The Royal Brompton in Chelsea is the third centre.
In November the High Court granted a judicial review saying the consultation process was "seriously distorted".
Dinah Rose QC, for the JCPCT, told appeal judges Lady Justice Arden, Lord Justice Richards and Sir Stephen Sedley that the High Court had erred in law because the consultation process was still ongoing and therefore it was impossible to say whether the process was "flawed".
Ms Rose said the hospital's legal bid amounted to "short circuiting" proceedings and was to the detriment of the public interest.
She said: "This consultation process is not being undertaken in order to advance the interests of individual institutions. It is for the benefit of children and their families."
There was a risk that "powerful vested interests with financial resources" could challenge the final decision, but the Royal Brompton seemed "determined to take any measure it can to put a spanner in the works" to delay the process.
Ms Rose asked the judges to overturn the High Court's decision, "sending out a clear message" that a legal challenge can be made "after a decision has been made" and the courts should "not meddle in the consultation process itself".
The hospital argues that delaying bringing legal challenges could distort the consultation process.