London 2012: Great-grandmother prepares for torch role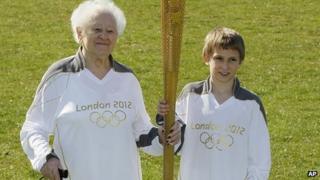 "I am walking up and down holding a candlestick," said 99-year-old Diana Gould, who is the oldest among the 8,000 people who will carry the Olympic flame.
The great-grandmother of six, who lives in a retirement flat in Kenton, north-west London, did not know that her granddaughter Alexandra Antscherl had nominated her to be a torchbearer.
But since being selected she has been preparing for the 300-yard walk.
"I was delighted when she (Alexandra) told me and when I heard I was definitely accepted I started to get really excited.
"I've seen the torch now - I think the design is lovely and it's fairly comfortable to hold.
"As long as the walk is on the flat I think I'll be OK. The biggest challenge will be the weight of the torch. 
"I can't walk quick because I walk with a stick. About halfway I think I will have to change arms because of the weight of the thing!"
'Always keep fit'
Mrs Gould was born in Lodz in Poland and came to London as an infant. She grew up in the East End and moved to Stoke Newington with her husband Ted before World War II, before settling in Hendon in 1960.
After marrying the cabbie, she gave up her career as a seamstress in the West End's fashionable Carnaby Street area in order to bring up their two sons.
Mrs Gould has always been active, playing netball as a child and table tennis and badminton until the age of 86. She will turn 100 on 23 May.
"I always keep fit and active and twice a week I do exercise classes for the 'old people' who live in my block of flats.  
"Actually I am old enough to be mother to most of them.
"We do throwing and catching exercises, which are good for eye-hand co-ordination. I also demonstrate Diabolo and try to teach it to them," she said.
Mrs Gould said her young family did not follow the 1948 Olympics in London, which was one of the first Games to be televised, as they were "trying to make a living".
She said: "We didn't have a television. We probably couldn't have afforded to go and anyway I was too busy bringing up my family."
Gymnasts and Bolt
But she has followed some of the Games since.
"I liked Lord Coe and Roger Bannister. I remember Steve Cram too - that was very exciting."
Although she did not apply for the "expensive" tickets, she plans to watch her favourite sports and stars.
"I love watching the gymnasts on the rings and the bars and the graceful, beautiful girls," she said.
Describing 100m champion Usain Bolt as "the runner who runs so fast" she said he was "a joy to watch".
"And I find the pole jumpers very interesting," she added.
Unlike her grandmother, Alexandra Antscherl has tickets to watch handball with her husband and two children.
But it is the prelude to the Games which is more exciting for the family.
Mrs Antscherl said: "Grandma is still fit and active despite her great age; she's lived in London her whole life and has got friends and neighbours from lots of different communities.
"I think she's the perfect person to embody the spirit of the London 2012 Games which are taking place in her 100th year.  
"Nominating her seemed like a great way to honour her special birthday.  
"We did talk about whether we should ask if she could do her section of the relay in a wheelchair, but we knew she'd refuse."
'Don't think old'
The family plan to celebrate her centenary in a big way, with some relatives flying in from Australia.
Mrs Antscherl said: "Longevity runs in the family. Diana's mother, Mary Silverberg, lived until she was 102 and the family legend has it that her mother lived until 108."
When Mrs Gould carries the flame her family will be there to cheer her every step.
"I should think there will be about 18 members of the immediate family there, including her six great-grandchildren, whose ages range from two to 10," Mrs Antscherl said.
For the great-grandmother the 2012 Olympics is an inspiration for people of all ages to "keep active".
And her message to her contemporaries is: "It's up to each person to make sure they keep themselves active - in mind and body.  
"Don't think old, just get on with it."