London 2012: Third transport union rejects £850 pay offer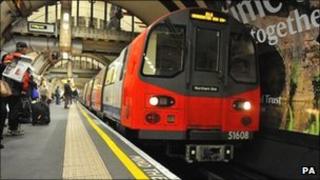 A third union has rejected an £850 bonus for London Underground (LU) employees to work during the Olympics.
The Rail, Maritime and Transport (RMT) union said it turned down the deal and called on LU to remove "the array of strings attached".
Last week both Unite and the Transport Salaried Staffs' Association refused the offers after LU's "demand for total flexibility".
LU said it was disappointed by the RMT stance and was seeking further talks.
RMT general secretary Bob Crow said: "Our reps have made it clear that we want the Olympics to succeed and will work within the existing frameworks in a co-operative manner to ensure this happens.
"All we want is a deal that ensures that the extra work and efforts of our staff are fairly rewarded with a substantial Olympic bonus of the same value made to all grades without the array of strings currently attached."
Howard Collins, London Underground's Chief Operating officer, said: "Our proposals about how we can fairly reward staff over the London 2012 Games would see station, maintenance, service control staff and operational managers receive up to £850 subject to attendance, customer satisfaction scores and working flexibly in order to deliver a successful Games.
"An agreement has already been reached with drivers to compensate them for working more and longer hours during the Games.
"We have been absolutely clear in defining what flexibility we need from those groups of staff we will need to work differently this summer.
"We are disappointed that RMT representatives have misunderstood our offer and are actively seeking further talks to resolve this issue."