Woman claims hospital 'failed her and her stillborn daughter'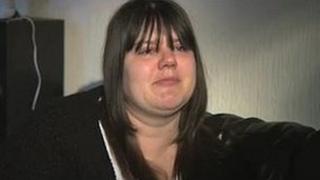 A woman who lost her baby in the late stages of pregnancy has criticised the treatment she received at a hospital.
Kelly Manning, 27, of Thornton Heath, south London, who developed diabetes during pregnancy, claims she was not treated for the condition early enough.
She also said that staff at the Croydon University Hospital suspected her baby had died, but sent her home because the right equipment was not available.
The hospital said an inquiry had just begun and it was waiting for details.
Miss Manning said at the 28-week check she was diagnosed with gestational diabetes.
Independent clinicians told BBC London that if a pregnant woman is diagnosed with this condition her health should be monitored weekly until her due date.
'Closing time now'
But Miss Manning said she received no treatment until she raised concerns about the baby's heartbeat at 33 weeks. She was then immediately prescribed medicines to treat diabetes.
And then last November, a Sunday two weeks before her due date, she went to the hospital because she was worried about the child not moving.
Miss Manning said she was "sent home like I was nothing, like it was a shop, like it was closing time now, you have to go. Not considering my care, my thoughts, my feelings, not considering how long I have tried to get pregnant."
When she returned home her family took her to a nearby hospital where she was induced and her daughter Kiya was stillborn.
"Now the only thing I have got of her is her ashes.
"She looked so bad that I couldn't even hold and kiss my daughter," Miss Manning said.
A statement from Croydon University Hospital said: "The trust is looking into Kelly Manning's complaint and we need to have the notes from all her attendances at the hospital before we can be sure exactly what happened and why.
"We appreciate this is a very distressing time for her and a senior midwife has offered to meet her at a time and place of her choosing, so we can respond to her concerns and answer her questions in detail."
The hospital also said the scanning equipment in the maternity unit should be available 24-7 so the investigation will also look at what happened on the Sunday Miss Manning went to the hospital.