London teachers to go on one-day strike over pensions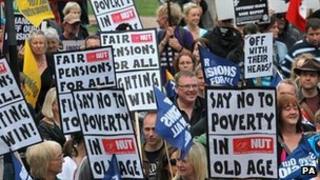 Thousands of teachers in London are to strike on 28 March over changes to pensions, a union has said.
The National Union of Teachers (NUT) said the action was the "next step" in the pensions campaign.
The University and College Union said it would join the action. The NUT said proposed pension reforms would mean teachers working longer, paying more and receiving less when they retire.
The Department for Education said the action was "completely irresponsible".
Last November 18,342 schools were closed across the UK when public sector workers, including teachers, walked out over pensions reform.
Christine Blower, general secretary of the NUT, said: "The government has consistently refused to carry out the long overdue valuation of the scheme, and the Hutton Report showed that the costs of public sector pensions are falling.
"Teachers cannot be expected to just accept government proposals to cut pensions without a justifiable reason."
She added that there was need for further action as concessions from the government following strikes in June and November 2011 did "not go far enough".
The union said about 50,000 of its members who work in London will be affected by the proposed changes to the pensions scheme.
'Good as it gets'
A Department for Education (DfE) spokesperson said: "This is a completely irresponsible decision and won't get teachers any further forward.
"The deal on the table is as good as it gets and talks are not going to be reopened.
"Most people will struggle to understand why NUT's leadership is rejecting a good offer which guarantees their own members a far better pension than the vast majority of people in the country will ever get."
The DfE claims the reforms are "essential" because the scheme cost taxpayers £5bn in 2006 and is expected to rise to £10bn in 2016.
Meanwhile, in a separate move, the NUT has warned that attempts to shorten school summer holidays and change terms in England could lead to widespread strike action.
It is due to ask delegates at the union's conference this Easter to back industrial action in Nottingham, after the city council revealed it was planning to move schools to a five-term year with shorter summer holidays.