Woman 'offered serial rapist Antoni Imiela sex'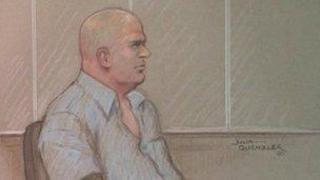 A convicted sex attacker accused of raping a woman two decades ago claims the alleged victim offered him sex.
Antoni Imiela, 57, was jailed for life in 2004 following rapes across south-east England, all involving women he did not know, the Old Bailey heard.
He is now accused of raping Sheila Jankowitz, on Christmas Day 1987 in south-east London. She died in 2006.
But Mr Imiela told the court he jokingly propositioned her when she bumped into him while in Forest Hill.
He said after she bumped into him he humorously suggested they sleep together.
'Friendly way'
Mr Imiela said: "It sounds stupid but I just made a joke.
"Because she didn't apologise for bumping into us as you would normally do, it was in a friendly way I thought, it might not be seen that way, but I said what I said."
Mr Imiela claimed Mrs Jankowitz then told him to wait while she went into a nearby house.
He denies the rape, indecent assault and another serious sexual assault of Mrs Jankowitz, claiming they had consensual sex and oral sex.
Mr Imiela also protested his innocence of the rapes of which he has already been convicted.
He said: "I've tried to appeal on a number of occasions.
"I've gone through solicitors, it's been really difficult.
"It takes ages and ages to get anywhere."
'Excellent punch'
When prosecutor Richard Hearnden went through Mrs Jankowitz's account of the attack Mr Imiela denied he was violent.
He said: "If I'd have punched that woman she'd have been in a sorry state.
"I can throw an excellent punch with both hands."
Mr Hearnden said: "You forced yourself on Mrs Jankowitz, you grabbed hold of her, you threatened her with her life because you wanted power over her.
"You wanted sexual gratification and you didn't care one bit about her."
Mr Imiela replied: "I cared more about her than you ever will."
The trial was adjourned until Friday.