London 2012: Joy of sport-mad torchbearer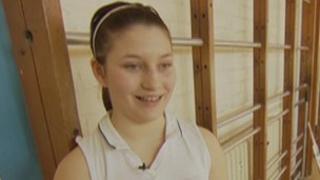 A sports-mad pupil from Havering has spoken of her "excitement" at being chosen to carry the Olympic torch on the day organisers revealed the street-by-street relay route.
Caitlin Hewson, 12, was encouraged to apply because she "always strives to perform to the best of her ability".
The relay starts in London on 21 July and will be carried through key locations.
It can be seen at venues including Kew Gardens and the Newham Festival.
The Year 7 pupil at Gaynes School, who suffers from severe forms of asthma and eczema, is a big sports fan and despite her allergies throws herself into all outdoor sports.
She said: "I was asked to fill in the application forms by my PE teacher Miss Plank and after seeing some of the people nominated on the Olympics website I wasn't sure I'd get picked. They were all really good.
"I was very surprised to be chosen and my mum is really excited for me. My friends and family will be coming to watch me because it's such a big event. I'll be really nervous but I am looking forward to it."
'Deal with it'
Caitlin said her favourite sports were cricket, for which she has been selected for the U13 Essex cricket squad, netball, rowing and rounders.
She said: "In the summer my asthma and eczema can be bad but I just get on and deal with it.
"It's a mystery where I'll actually be running in the torch relay but it's a great feeling."
The torch will first be seen in London on Day 64 (21 July) when it will be carried through the Royal Observatory and Meridian Time Line at Greenwich.
During the rest of the day it will be taken through Newham, Tower Hamlets, Hackney and Waltham Forest.
On Day 65 (22 July) it will head further east with a tour through Redbridge, including Fairlop Waters Country Park, and then on to Barking and Dagenham, Havering and Bexley.
On Day 66 (23 July) torchbearers will run through Crystal Palace Park, the All England Lawn Tennis Club at Wimbledon and other parts of Lewisham, Bromley, Merton, Croydon, Sutton and Wandsworth.
It is the turn of Kingston, Richmond, Hounslow, Hillingdon and Ealing on Day 67 (24 July) when the torch passes through Hook Community Centre, Kew Gardens, Hillingdon Town Hall and Brunel University.
On Day 68 (25 July) torchbearers will pound the streets of Harrow, Brent, Barnet, Enfield and Haringey.
Two of the key locations to see the runners will be Headstone Manor and Museum in Harrow and Middlesex University in Hendon.
The torch starts to move closer to the centre of London on Day 69 (26 July), the day before the opening ceremony in Stratford.
It will be carried around Camden, Islington, the City of London, Southwark, Lambeth, Hammersmith & Fulham, Kensington & Chelsea and Westminster.
The Olympic flame arrives in the UK on 18 May and begins its 70-day journey at Land's End on the morning of 19 May.
During the 10-week relay the torch will be carried by 8,000 torchbearers and will travel about 8,000 miles.
London 2012 organisers Locog say the torch will come within 10 miles of 95% of the population.