Duchess of Cambridge plays hockey at Olympic Park with Team GB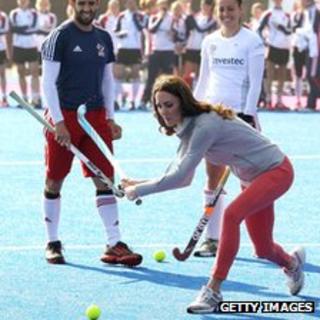 The Duchess of Cambridge, who led her school's hockey team, scored a goal while playing with Team GB's players during a tour of the Olympic Park.
Catherine, 30, who was team captain at Marlborough College, took the tour in her role as an Olympic Ambassador.
"I was striker so you had to get the timing exactly right," she said.
Later she visited the Dulwich Picture Gallery in south-east London, where she saw the work of the Prince's Foundation for Children and the Arts.
She was joined by the Prince of Wales and Duchess of Cornwall.
Catherine, who wore the official Team GB supporter's scarf, said she was "very excited" about her first visit to the Olympic Park.
Addressing the women's hockey team, who were training at the site, she said: "I really hoped to be here, I would love to see you play in the Games."
She said she was "not feeling so confident" about playing the game.
"The last time I played was 2005, maybe. It feels like I haven't held a stick for 10 years.
"My brain thinks I can do all these wonderful things but my body just doesn't play ball.
"I used to play at school and I remember my muscles at the beginning of the season were agony."
After the Duchess's visit, Kate Walsh, GB and England hockey captain, tweeted: "A real pleasure and an honour to meet and play hockey with HRH the Duchess of Cambridge this morning! Think our team have got Royal approval!"
During the visit to Dulwich Picture Gallery, Catherine, Prince Charles and the Duchess of Cornwall were greeted by hundreds of cheering schoolchildren waving union jacks.
It was the first time Catherine had joined Charles on a visit to one of his charities.
They chose to see the work of the Prince's Foundation for Children and the Arts at Dulwich because of their mutual interest, a Clarence House spokesman said.
He said it came about from "a conversation between a father-in-law and daughter-in-law" and added: "They have a shared interest in art, art therapy and children."
The royal party spoke to children who have taken part in the Great Art Quest - a programme that introduces youngsters to local galleries, professional artists and storytellers.
Pupils from Goodrich Community Primary School in East Dulwich, Globe Academy in Southwark, Langbourne Primary School and St Luke's C of E Primary School, in Dulwich, attended the event.
The royal visitors also met artists involved in the project before viewing a special exhibition of the children's work.
Portraits from children aged four to 16 will create a montage image of the Queen which will be projected on to the front of Buckingham Palace, to herald the start of the Jubilee and Olympic celebrations in April.
The portraits will also be displayed on 400 big screens across the UK.