London riots: Student Ashraf Rossli's muggers jailed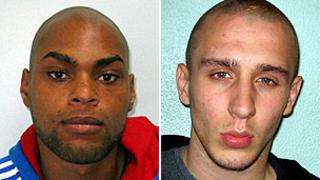 Two men have been jailed for robbing a Malaysian student as they pretended to help him during the riots in London.
Ashraf Rossli, 20, had been in the UK for just a month when he was attacked on 8 August in Barking, east London.
As he lay injured, John Kafunda and Reece Donovan, of east London, stole items from his bag. Both had been found guilty of robbery and violent disorder.
Kafunda, 22, was jailed for four years and three months and Donovan, 24, received a five-year sentence.
Footage of Mr Rossli being helped up before being robbed was recorded on a mobile phone and posted on YouTube.
The accountancy student from Kuala Lumpur was on his way to a friend's house when his bicycle was stolen and he was punched in the mouth.
The punch broke his jaw in two places and as he sat on the ground with blood pouring from his mouth he was helped up by Kafunda.
But as the student recovered Kafunda and Donovan were caught on camera rifling through the injured man's rucksack.
A portable Playstation and 10 games worth £500 were taken from him.
Giving evidence in court, Mr Rossli said: "I was sat on the pavement with blood pouring from my mouth.
"I remember being approached by a male who asked if I was OK. I remember being pulled to my feet, then I felt someone again tugging at my rucksack.
"I was not in a position to defend myself and was still suffering from the effects of being hit. Once they had taken what they wanted they left."
Donovan, of Chadwell Heath, Romford, was sentenced to three-and-a-half years for robbery. He was also sentenced to 18 months for violent disorder and 18 months for burglary with the sentences to run concurrently.
Kafunda, of Eastwood Road, Ilford, was sentenced to three-and-a-half years for robbery and nine months for violent disorder.
Beau Isagba, 17, of Icknield Drive, Ilford, who admitted stealing the bike from the student was convicted of the attack and jailed for seven years.