Why NHS bosses are scratching their heads over London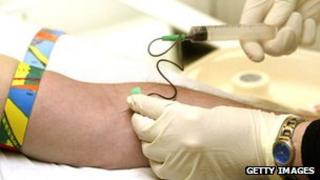 According to a senior NHS figure: "London is the main area they worry about".
The "they" are those that run the health service and the "worry" is that changes being planned for the NHS will be harder to deliver in the capital than anywhere else in England.
London has always been a bit different and always a little more complicated with its alphabet soup of organisations running a system that cares for close to eight million people.
The bare numbers tell their own story. There are 29 hospital trusts, 31 primary care trusts (PCT), six PCT clusters, more than 5,000 GPs and a budget of more than £15bn.
It is a city where more than four million people a year go to A&E, where 20% of all babies delivered in England each year are born and a city where the richest and poorest communties often live side by side - each with different health problems.
No wonder then that almost since the birth of the NHS in 1948, experts have been scratching their heads to find a better way to deliver health for Londoners.
Whip hand
Many have argued the city has too many hospitals but successive efforts to get more people treated by their local doctors have failed, or even been ditched.
Now, as part of the government's controversial reforms, London's GPs are to be given the whip hand.
They will be put in charge of the money and given the power to decide what services they commission and who they commission it from.
From next April they will formally take over, set up into 32 different clinical commissioning groups - one for every borough.
Dr Howard Freeman, chairman of the Merton Clinical Commissioning Group, said: "We will work to ensure that the system in different parts of London is the right system.
"Yes, we will be able to say we don't think it's appropriate for a hospital to provide a service any longer - that will still be subject to all the checks and balances the system has.
"So, it won't be just GPs making rogue decisions to close a service in a hospital. It will be a very similar process to the one we go through now except it will be led by people who actually work on the front line."
But pushing care towards local doctors will mean big changes for the capital's hospitals.
Moving or closing services has always proved politically and locally challenging and this time round will be no different.
Since the 2010 General Election and despite strong local campaigns, three A&E and maternity units have learned they will close.
The ones at Queen Mary in Sidcup have already gone and those at King George in Ilford and Chase Farm in Enfield are set to follow.
In September, Enfield Council leader Doug Taylor said: "The secretary of state said he would listen to Enfield's residents and he has not.
"Closing the A&E and maternity departments is a slap in the face for local people who overwhelmingly support retaining these services."
A&E closures
One well-placed insider told me they expected between six and 10 A&Es to close in total.
The medical director of NHS North West London went even further in an interview with BBC London last month. Dr Mark Spencer told said there would be "fewer hospitals" in the future and that some would "almost inevitably" have to close.
The NHS in south-west London has already announced that one of its four hospitals will lose its A&E and maternity units, and in the north-west of the capital a major reorganisation of services is under way.
Both of those public consultations have been put on hold until after May's mayoral elections.
Some at the top are also worried that closing NHS London will mean that capital-wide initiatives may be harder to deliver.
Initiatives like the four major trauma centres that have been set up or the eight Hyper Acute Stroke Units would be harder, they say, to make a reality.
Both programmes see the most seriously ill driven past their nearest hospital to a specialist centre.
Early signs show that an extra 250 lives have been saved by the schemes that see teams of consultants available 24 hours a day.
'I'd be dead'
Matt Lopez, 51, credits Charing Cross's Hyper Acute Stroke Unit as having saved his life.
After a flight from Miami last year, he collapsed on a plane at Heathrow as a blood clot had moved from his leg to the back of his brain.
Unable to move or talk all he could think about was one relative who had died from a stroke and another who had been left permanently paralysed.
He said: "If it wasn't for the team of doctors and the system they had in place I would be dead.
"There was a team of doctors waiting specifically for me to work on victims of stroke and from the moment I was carried through the door they took control."
The question for the 32 GP commissioning groups, who will take over in the capital, will be whether they can come together to deliver similar projects in the future - at a time when London's NHS is facing a shortfall of £5bn by 2016.
It is a huge challenge at a time when the whole way the NHS works is also changing.
But, it is a challenge the government believes will be met and will deliver better healthcare for everyone in the capital whatever the worries of some of those who will have to deliver that change.