'Hackney Heroine' Pauline Pearce stands in election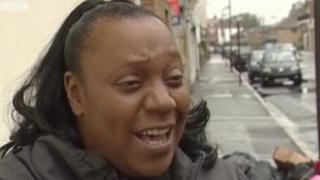 A woman dubbed the Heroine of Hackney after being filmed confronting rioters last summer is to stand for election at her local council.
The footage of Pauline Pearce, 46, berating looters in Hackney, east London, has been watched more than a million times on YouTube.
She will be the Liberal Democrat candidate for the Hackney Central Ward.
The by-election on 3 May is taking place after Labour councillor Alan Laing resigned to move to Scotland.
A spokesman for the Liberal Democrats said the party approached her to stand after noticing her work with young people in Hackney.
'Powerful voice'
"She is a true community heroine and a powerful voice for the people of Hackney," he said.
Miss Pearce said: "I am excited to stand for the Lib Dems.
"I really want the chance to use my experience to make a real difference for people of our communities."
The singer and local radio DJ had been filmed on a mobile phone waving her walking stick at the rioters.
She was heard to say: "I'm ashamed to be a Hackney person.
"Because we're not gathering together to fight for a cause, we're running down Foot Locker and thieving shoes."
A spokesman for Hackney's Labour Group said: "We are confident that Hackney Central residents will continue to back Labour both in this local election and in the Mayoral election - especially in light of the Tory and Lib Dem Government's assault on public services in areas like ours where the impact is felt most acutely."