Increasing road use 'impacts on Heathrow air quality'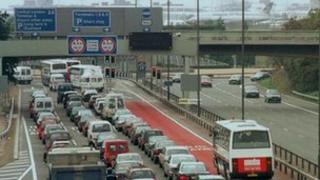 The increasing number of vehicles using the road to get to Heathrow airport is worsening air pollution in the area, a London Assembly report has said.
The Plane Speaking reportsaid 66% of 69 million passengers getting to the west London airport used cars or taxis.
It said with bigger planes and the redevelopment of Heathrow, the number of passengers could rise to 95 million.
The report suggests extending the London Underground's operating hours to Heathrow to cut pollution.
It also recommends introducing incentives to encourage people to use buses and coaches; encouraging airline operators to remove the most polluting aircraft from their fleets; and considering more robust measures to reduce the level of drop-off and pick-up traffic.
Murad Qureshi, chair of the London Assembly's environment committee, said: "Poor air quality causes the early deaths of at least 4,000 Londoners a year, and it's time more action is focused on Heathrow as a big player in this serious public health issue."